Amazon orders major new parking guidance system from Q-Free UK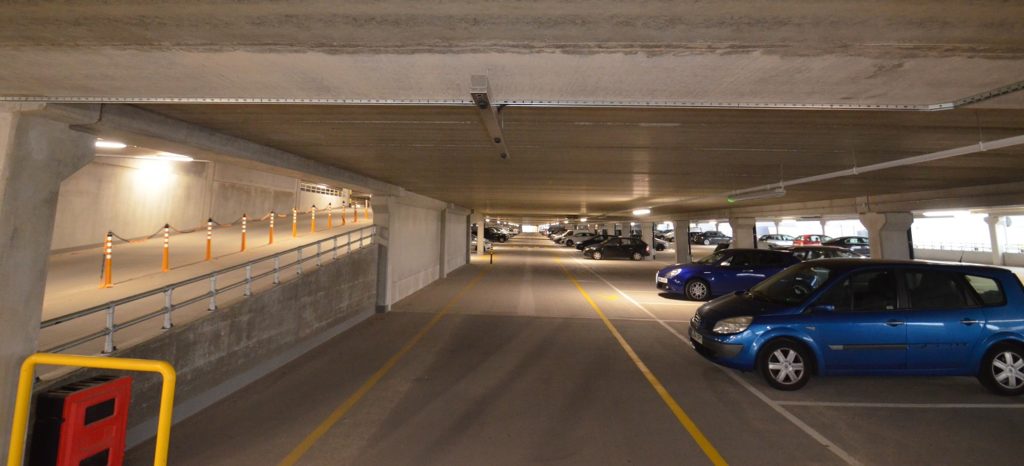 Within the Amazon Tilbury Fulfilment Centre's car park, ceiling mounted USDS ultrasonic detection sensors monitor spaces.
This facility is one of the largest distribution centres in Europe, and Q-Free UK was approached by McLaren Construction to provide the site with a modern Parking Guidance System (PGS). Q-Free UK therefore collaborated with Q-Free Boston, utilizing their parking expertise, and with Q-Free Serbia, to provide Variable Message Signs (VMS) for on-site guidance.
"The new PGS will operate 24 hours a day, and will provide associates — Amazon's term for its employees —  with parking guidance based on zones," explains David Caplin, Business Development Manager Parking with Q-Free UK. "Rather than being given the number of spaces on any individual level within the facility, as may happen in such as a shopping centre, those arriving are guided to zones according to the shifts that they will be working on.
"Guidance is provided by two totems, which give lane instructions, and four external and two internal VMS. Vehicle presence information is provided by our ceiling-mounted USDS (ultrasonic detection sensors) within the facility and, on the third storey where there is no ceiling, inductive loops. Communication is wireless and everything is supported by a Q-Free Boston back office system. Commissioning was undertaken by Barry Smith, who is responsible for Special Projects in Q-Free UK, and who deserves a lot of credit for delivery.
"It's a great first win in the UK parking market for us, and underlines how working together across the various Q-Free group companies brings major results; it's been great having colleagues from Serbia, the US and those from France supporting us. We've gained two prestigious clients, in the form of McLaren Construction and Amazon, and a major new facility which can act as a springboard and reference for future business."
The post Amazon orders major new parking guidance system from Q-Free UK appeared first on Q-Free.